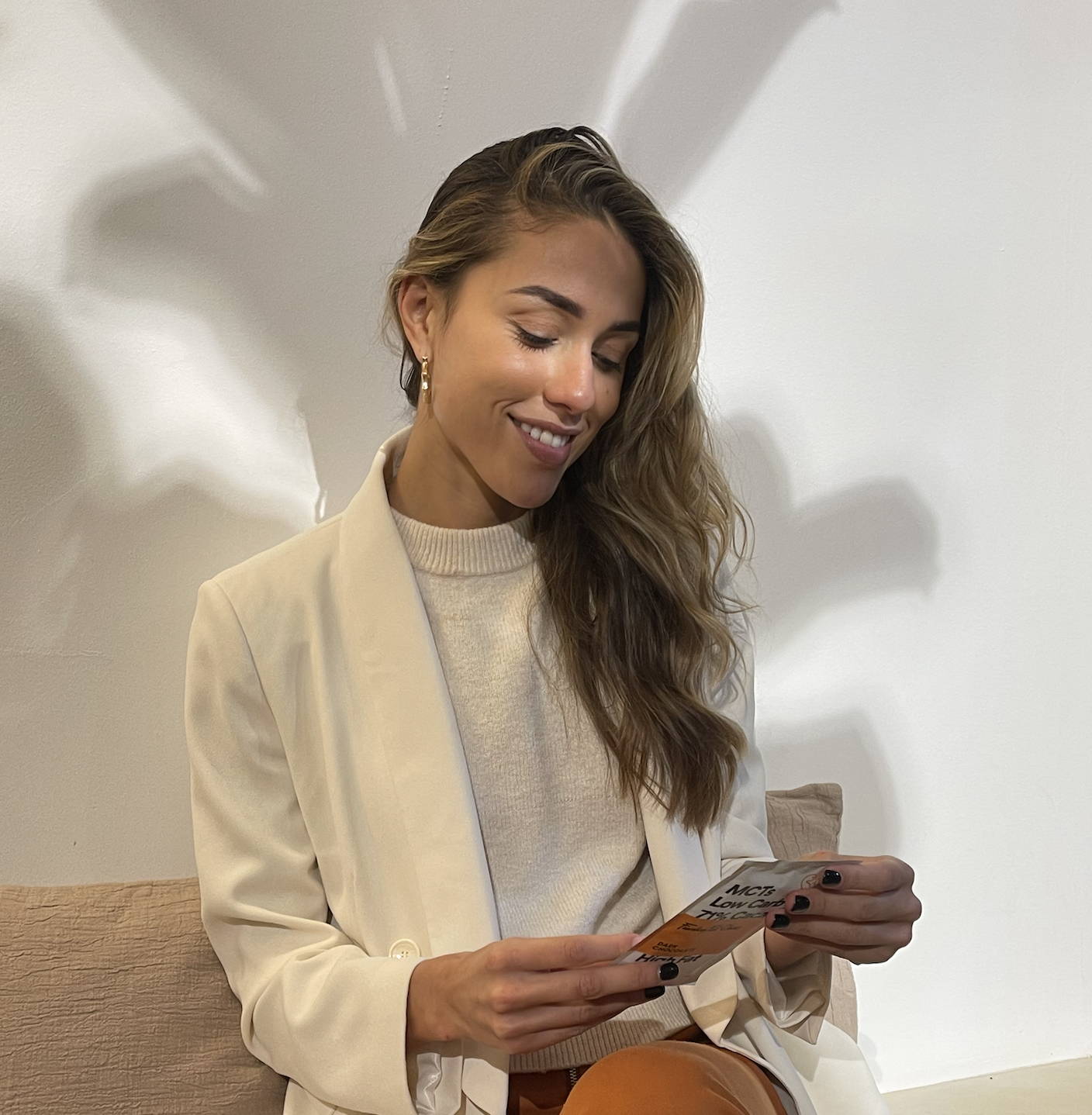 Founder Louisa Mesquita Bakker began her keto journey 3 years ago. Early on, she realised that living a keto life was amazing - but it wasn't easy. 
Her biggest challenge was the lack of keto alternatives for the snacks she loved. Everything was either made with sneaky, cheap ingredients. Not to mention the taste which was so bland that... it was just not worth it.
This gave her an enormous drive to create products that could help others living a more sustainable and enjoyable keto journey.
As a true chocoholic, her first choice was chocolate. But she didn't want to make just another chocolate bar. She wanted to create a chocolate bar with purpose. A healthy snack that is freaking good for you.
And that's when the Funky Fat Food's journey began.

We're the creators of Funky Fat Choc – The first 100% organic keto chocolate bar with MCTs. Our chocolates were designed to provide you with the nutrients you need on your low-carb, ketogenic journey: healthy fats!
Since 2018, we've been sharing our keto chocolates with thousands of happy customers all over the world. And this is just the beginning.
Along with chefs and nutritionists, our goal is to keep researching and creating keto snacks that not only help you reach your health goals, but that also taste like heaven.
We believe a positive change in the food industry is possible and necessary. And this is why we're here.
Funky Fat Foods is a young & hungry start-up on a mission to create tasty & functional foods high in healthy fats. Without the junk our body doesn't need. Period.
To Bring. Fat. Back!
We've been told that to be healthy or in shape, all we had to do was to cut fat out of our diet. Fat became the enemy, a scary urban legend that had to be avoided at all costs.
But this 'Fat is Bad' idea came with a high cost: Your health.
We're here to end fat shaming and bring good fats back to your diet, one snack at a time. Because good fats are essential for a healthy body while giving you the fuel you need to live your dreams out loud.
Say yes to healthy fats.
For many years, we were told that fat was bad. But now we know the truth. Our bodies need healthy fats to thrive. That's why our organic keto chocolate bars are high in healthy fats from MCTs and cacao beans.
No junk.
We source only high quality ingredients and do not mix it with cheap chemical fillers or preservatives. Because your health matters.

Care for people
We care about you, the quality of our products and the sources of our ingredients. That's why we only work with suppliers that share this same value. From farmer, to you, with love.
---